2010-06-14/17:56:58:
We're back on track. Concert at Down Under in mjøndalen. Expect no less than hell from Regin!!
2008-11-16/17:50:28:
Her Hvor Intet Lys Finnes is now out for free download. Let the taps flow!!
2008-10-22/20:42:49:
Koldgrim is our new vocalist!
2007-12-11/20:00:15:
Likskrik is no longer a member of Regin.
2007-08-06/04:14:55:
Regin is still alive and is currently writing a new album that will be released on Goathorned Productions. Stay tuned!
2007-01-18/01:31:51:
Oooops.. An error in the guestbook... The webmaster was called upon, and fixed it within seconds...
2007-01-06/02:51:13:
The bio is "finally" in place.
2006-12-14/15:23:59:
Recording from the concert at Victoria is available in reduced quality on the mediasection. An DVD is purchaseable from us if wanted.
2006-11-23/01:17:29:
The upcoming show at Victoria is postponded to December 1st.
2006-10-25/23:06:57:
Problems with someone/something posting crap into the guestbook may be solved..
2006-10-20/22:42:07:
It seems like the guestbook has been out of order for some time... fixed now..
2006-10-17/02:41:49:
The page is now international (mostly).. Translations : Grimne (page), Vannvidd (news).. Done in real BM-style!
2006-10-12/01:13:45:
We finally found decent vocals again, Likskrik is welcome to enter our ranks.
2006-08-03/17:20:37:
Deleted some ads from the guestbook… Only ads will be deleted as we don't do cencorship here.
2006-06-24/22:29:47:
Regin will be slightly reduced at our concert at "Rock In" the 6.25.2006, due to a sudden jailing of vocalist, Inhuman. Nekrokissa will be taking over the vocals until further notice.
2006-06-02/00:00:01:
Regin will Join Koldbrann and Vidsyn playing "Rock In", Oslo, Sunday the 6.25.2006. CC.70 NOK.
2006-04-19/23:55:41:
Vanvidd is now released and we did not get to play as support for Satyricon the 05.12.2006
2005-12-13/20:13:14:
Regin will halt all activities temporarily, as Vanvidd is jailed.
2005-12-06/21:40:29:
"Dødslengsel" and "Her Hvor Intet Lys Finnes" is put out for download in our mediasection.
2005-12-06/21:39:18:
We just got an offer to print our album by a record-company, we will be taking orders until the deal is done.
2005-12-01/17:25:55:
Our first album is now ready and out for sale, send us a mail at regin@regin.cjb.net if you want a copy.
2005-11-13/20:25:12:
Regin sent two men to be interviewed at Symphonium Metal Radio today. A recording is out for download in our media section.
2005-09-27/15:12:33:
Recording of our next album has started. It is expected to be out by the end of the year.
2005-07-30/01:18:40:
The guestbook is now back in busieness.
2005-07-19/18:10:53:
The guestbook is not up and running.
2005-06-26/03:30:14:
All rehersalrecordings are converted to mp3-format.
2005-06-25/19:56:51:
The concert at the drammen city centre-stage is now well over with, we raised hell! Pictures are out.
2005-06-07/02:39:46:
Pictures of our concert at "Rock In", Oslo is out.
2005-02-26/00:13:07:
Concert pictures are released.
2005-02-24/13:51:39:
Concert list is now ready.
2005-02-24/00:46:13:
Cancelled, MY ASS! We played at "Galleriet" instead. The concert was a great success! Regin rules!
2005-02-23/14:50:27:
The lyrics for Dødslengsel and Hird is now out for your reading pleasures.
2005-02-23/14:49:36:
The concert at "Riggen" is cancelled.
2005-02-21/15:55:08:
Regin will be playing Riggen, Drammen with support Wednesday 2005.02.23. Also the new rehearsal recordings are out for free download
2005-02-16/21:23:06:
We did some rehearsal recordings today, two new songs are out for download.
2004-11-23/01:56:38:
Regin had a photo shoot earlier today, pictures can be viewed here.
2004-11-17/23:11:28:
Fixed our guestbook today.
2004-09-08/01:27:02:
Regin will play at Riggen with Silent Vanquish 11.03.04
2004-08-21/19:55:27:
Our two new songs Ultimate Destruction and Merciless are now out for your reading pleasures in the songs-section..
2004-07-19/15:59:08:
During July two of our bandmembers were accused of a church burning…
2004-07-19/15:57:16:
The first of July, two members moved to "Konnerud", we plan to make a rehersalplace for our own...
2004-07-19/15:55:18:
A little while ago Inhuman joined us on vocals.
2004-04-01/00:47:09:
The gig as support for Koldbrann is now overcome.
2004-03-27/21:11:40:
Regin and Koldbrann will play at Riggen Pub Wednesday 31.03.2004 CC. 30 NOK (We want beer too you know!)
2004-03-21/18:12:04:
Today Regin got a better webpage...
2004-03-14/15:31:58:
Regin goes studio for a little recordingsession..
2004-03-10/11:15:05:
Regin got its logo from Christophe Szpajdel "szpajdelchr at hotmail dot com".
2004-02-04/20:43:15:
Regins first concert... Nice accoustic one as well..
2003-10-01/13:49:00:
Regin was finally formed by evil forces it the universe.
For sale :
Her Hvor Intet Lys Finnes - sold out!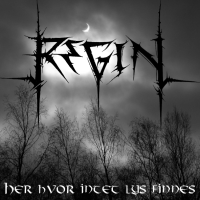 Upcoming shows:
No concerts confirmed at the moment..